The Long holiday is here! Wondering how to wrap it up in style without delving too deep into your pocket? Visit any of these fun countries to experience true beauty and serenity. Not only is it more affordable than your usual holiday destinations, it does not require excessive planning and will offer you and your family a new experience. We also have local destinations which you can discover.
Maldives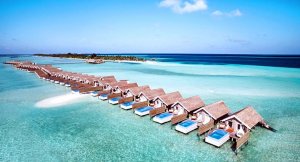 It is a South Asian island country, located in the Indian Ocean, situated in the Arabian Sea. It is one of the world's most geographically dispersed countries, as well as the smallest Asian country by both land area and population, with a little over 393,500 inhabitants.
The number of resorts increased from 2 to 92 between 1972 and 2007. As of 2007, over 8,380,000 tourists had visited Maldives and they do not need to apply for a visa pre-arrival, regardless of their country of origin, provided they have a valid passport, proof of onward travel, and the money to be self-sufficient.

Kenya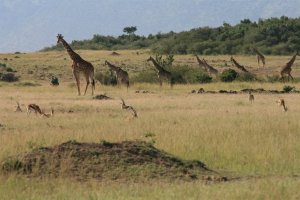 Kenya has a warm and humid tropical climate on its Indian Ocean coastline. The climate is cooler in the savannah grasslands around the capital city, Nairobi, and especially closer to Mount Kenya, which has snow permanently on its peaks.
Thanks to its diverse climate and geography, expansive wildlife reserves and national parks such as the East and West Tsavo National Park, Amboseli National Park, Maasai Mara, Lake Nakuru National Park, Aberdares National Park and white sand beaches at the Coastal region, Kenya is home to the modern safari and has several world heritage sites such as Lamu and numerous beaches, including in Diani, Bamburi and Kilifi, where international yachting competitions are held every year.

Barbados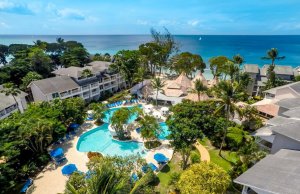 It is a sovereign island country in the Lesser Antilles, in the Caribbean region of North America.
Despite being classified as an Atlantic island, Barbados is considered to be a part of the Caribbean, where it is ranked as one of the leading holiday destinations. Forty percent of the tourists come from the UK, with the US and Canada making up the next large groups of visitors to the island.

Seychelles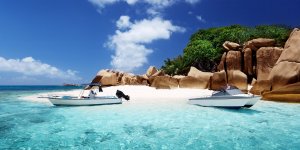 Seychelles, is an archipelago and country in the Indian Ocean. The 115-island country, whose capital is Victoria, lies 1,500 kilometres east of mainland East Africa. Seychelles is famous for having some of the best beaches in the world, pristine and uncrowded. Some are framed by age-old granite boulders and others offer powder-soft sands, turquoiseclear waters and sublime opportunities for swimming, snorkeling and pure relaxation.
There are great opportunities for island-hopping between the 16 islands that currently offer accommodation. These range from sumptuous 5-star resorts to rustic island lodges and cozy beachside bungalows. There are also national monuments, beautiful Creole houses, artists' studios, national reserves and marine parks, as well as breathtaking natural wonders above and beneath the waves.

Tanzania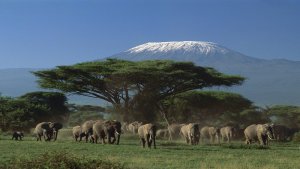 It is a country in Eastern Africa within the African Great Lakes region. Parts of the country are in Southern Africa. Mount Kilimanjaro, Africa's highest mountain, is in northeastern Tanzania. Three of Africa's Great Lakes are partly within Tanzania. To the north and west lie Lake Victoria, Africa's largest lake, and Lake Tanganyika, the continent's deepest lake, known for its unique species of fish.  The Kalambo water falls in the southwestern region of Rukwa are the second highest uninterrupted fall in Africa and are located near the southeastern shore of Lake Tanganyika on the border with Zambia. The Menai Bay Conservation Area is Zanzibar's largest marine protected area.
The vast majority of tourists visit Zanzibar or a "northern circuit" of Serengeti National Park, the Ngorongoro Conservation Area (NCA), Tarangire National Park, Lake Manyara National Park, and Mount Kilimanjaro.

Mauritius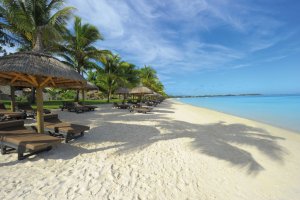 This is an island nation in the Indian Ocean about 2,000 kilometres off the southeast coast of the African continent. Mauritius is known for its varied flora and fauna, with many species endemic to the island.
Mauritius is one of the major holiday destinations, ranking 3rd in the region and 56th globally. It enjoys a tropical climate with clear warm sea waters, beaches, tropical fauna and flora complemented by a multi-ethnic and cultural population.

Federated States of Micronesia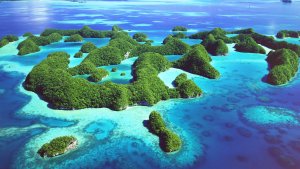 The Federated States of Micronesia is a country in the northwestern Pacific Ocean. It is composed of four major island groups totalling 607 islands that lie just north of the equator about three-quarters of the way from Hawaii to Indonesia, to the north of Papua New Guinea and the Solomon Islands and to the south of the Marshall Islands, the Northern Mariana Islands and Guam.
The Federated States of Micronesia is generally one of the safest countries to visit.

Dominica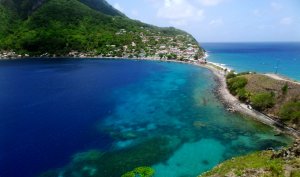 It is a Caribbean island country between the Caribbean Sea and the North Atlantic Ocean, about one-half of the way from Puerto Rico to Trinidad and Tobago. It is often known as "The Nature Island of the Caribbean" due to its spectacular, lush, and varied flora and fauna, which are protected by an extensive natural park system
Dominica's mountains, rainforests, freshwater lakes, hot springs, waterfalls, and diving spots make it an attractive eco-tourism destination. Cruise ship stopovers have increased following the development of modern docking and waterfront facilities in Roseau, the capital.

Fiji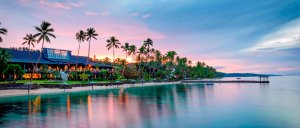 It is an island country in Melanesia in the South Pacific Ocean about 1,100 nautical miles northeast of New Zealand's North Island.
Fiji has several popular tourism destinations. The Botanical Gardens of Thursten in Suva, Sigatoka Sand Dunes, and Colo-I-Suva Forest Park are three options on the mainland. A major attraction on the outer islands is scuba diving. Fiji's main attractions to tourists are primarily white sandy beaches and aesthetically pleasing islands with all-year-round tropical weather. In general, Fiji is mid-range priced for holiday destinations with most of the accommodations in this range. More budget resorts are being opened in remote areas, which will provide more tourism opportunities.
In times like this, the key is to invest more than you spend such that whether the economy picks up or not, you will always have something to fall back on. Talk to one of our expert financial advisors today for profession financial advice on how to grow your wealth in the new year, recession or not.