Daily Market Update (Equities)
The Nigerian Equities Market extended its positive run for the third day this week, however at a much slower pace. The market's benchmark index increased marginally by 0.01% to 65,492.92 points. Also, the Year-to-Date (YtD) returns settled at 27.79% from yesterday's 27.78% YtD. Losses in GTCO, ZENITHBANK, FBNH and NB dragged down the gains recorded in TRANSCOH, DANGSUGAR, TRANSCORP and CORNERST, hence the minimal positive returns recorded in the market today.
Total Volume recorded today increased to NGN348.32mn units (Yesterday: NGN293.46mn units) while the Total Value traded fell to NGN4.05bn (Yesterday: NGN4.12bn). The total Volume was NGN231.60mn units while the market recorded a total Value traded of NGN3.99bn. Notably, DANGSUGAR traded the highest in terms of Volume while MTNN retained its position as the highest in terms of Value.

The top gainers for today's trading session were ABCTRANS, COURTVILLE and OMATEK while the top losers were CONOIL, DAARCOMM and REDSTAREX.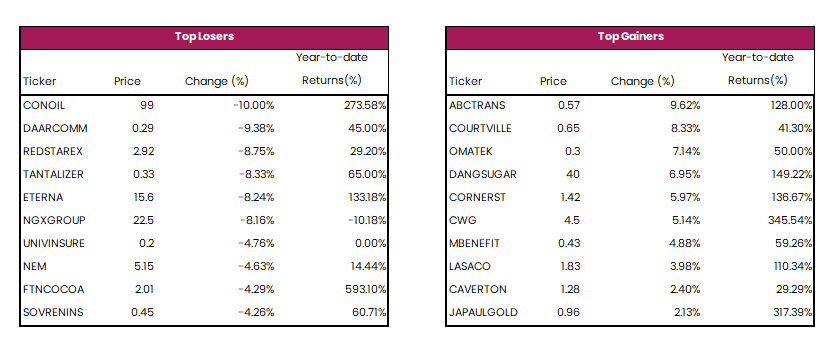 Daily Market Update (Fixed Income)
Today, average yield in the Nigerian Treasury Bills market remained at 8.28%. However, the average yield in the FGN Bond market went up by 0.02% to 14.05%.