Daily Market Update (Equities)
Today, the Nigerian Equities market sustained its positive start to the week, as its benchmark index gained 1.31%. The major contributors to this positive performance were Dangote Cement, Transcorp Hotels PLC, FBN Holdings PLC, Guaranty Trust Holding Co PLC, Ecobank Transnational Inc amongst others. Consequently, the Year-to-Date return on the benchmark index increased to 24.42% (Yesterday: 22.81%).
Furthermore, DANGCEM, PRESCO and FCMB recorded the highest trade by value while FCMB, JAPAULGOLD and DANGCEM recorded the highest trades by volume. The total Volume traded, and Value traded today were NGN868.80mn and NGN42.81bn respectively.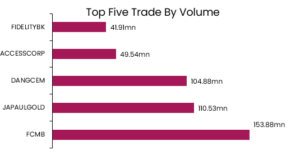 The top gainers for today were NEM, HONEYFLOUR and ETERNA while the top losers were JAPAULGOLD, FTNCOCOA and ROYALEX.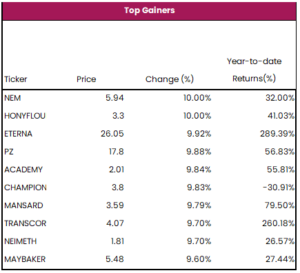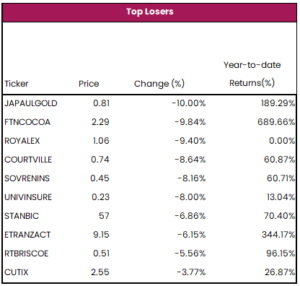 Daily Market Update (Fixed Income)
Today, the Nigerian Treasury bills secondary market traded quietly as average yield remained at 6.25%. However, the FGN bond market closed on a positive note as average yield tapered by 3bps to settle at 12.70%. This is following investors buying interests in bond instruments across the yield curve, particularly in the MAR-2025 instrument (yield down by 53bps).