C & I Leasing Plc is seeking to raise N3.2 billion by way of Rights Issue. The company is offering 539 million ordinary shares of 50 kobo each at a rights price of N6.00/share to existing shareholders based on 4 new ordinary shares for every 3 ordinary shares held as at 4th of September 2019.  The Rights issue opened on the 18th of November 2019 and closes on the 27th of December 2019.
Use of Proceeds
Capital Restructuring. Ensure optimum capital structure that appropriate balance of debt and equity.
Repayment of Short-Term Loans. Reduction of short-term debt through the redemption of some existing Commercial Papers.
Working Capital Needs. Provide working capital requirements as the needs arise.
Business Expansion. Acquisition of equipment and vessels to expand the marine services business. Increase in fleet.
| | | | |
| --- | --- | --- | --- |
|   | % | N | Expected Completion Time |
| Business Expansion | 29.2% | 943,350,630 | 18 Months |
| Refinancing of Loans | 58.3% | 1,886,701,260 | 1 Month |
| Investment in Working Capital | 9.7% | 314,635,638 | 6 Months |
| Issue Expenses | 2.8% | 89,332,470 | Immediately |
| Total | 100.0% | 3,234,019,998 | |
About C&I Leasing
The Company was incorporated in 1990 as a limited liability Company and duly licensed by the Central Bank of Nigeria to offer operating and finance leases and other ancillary services.
Over the years, C&I Leasing Plc has enjoyed consistent growth and has expanded its scope of business to cover major sectors of the Nigerian economy, providing specialized services, in Marine, Telecommunications, Oil and Gas, Equipment Rentals, Manpower Outsourcing and Transportation
The Company provides the following services
C&I Marine – a leading Nigerian content player in the offshore marine vessel space, operating a fleet of over twenty vessels that include terminal tugs, patrol vessels, fast support intervention vessels, and a platform support vessel.
C&I Outsourcing – outsourcing services with strength in various Human Resource competencies. They have access to a large database of skilled and experienced hires for both permanent and temporary roles ranging from Engineers to direct sales agents, diverse professionals, and consultants.
C&I Fleet Management – structured fleet management business support service designed to meet the diverse needs of clients regardless of the number of cars they own
SDS Training Services – accredited training institute and associate member of the International Federation of Training and Development Organizations providing carefully designed modules of training and education programs
CITRANS Telematics Solutions – Nigeria Communications Commission (NCC) licensed provider of unique fleet management solutions to suit various business needs. The platform offers a hardware configuration that includes a built-in accelerometer for intelligent driver behaviour with all its applications monitored remotely from a web-based software.
The Company has two (2) subsidiaries;
Leasafric Ghana Limited was incorporated in March 1992 and licenced by the Bank of Ghana as a non-bank financial institution to carry out the business of finance leasing as its principal business. Leasafric has since then been running an Asset Finance business using the technique of finance leasing.
This asset-based subsidiary was incorporated in 2011, as a free trade zone establishment in United Arab Emirates and licensed to trade in ships and boats, ships and boats spare parts, components and automobile and it commenced operations fully in 2014 with four vessels. The vessels are then chartered from C & I Leasing by the various international oil companies. This arrangement has expanded and helped grow the fleet size of C & I Leasing to 22 vessels currently.
Evolution of C&I Leasing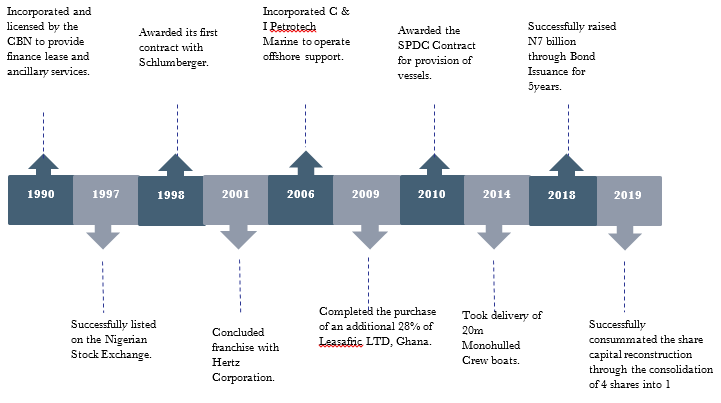 Financial performance
Revenue, PBT, and Shareholder's Fund (N 'billions)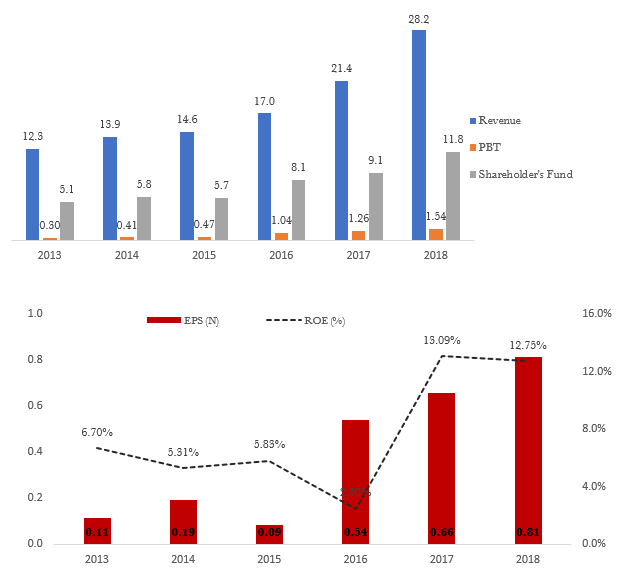 What to do with your rights
Subscribe to the rights issue to purchase in full:
To take advantage of the rights issue in full, you would need to pay the full amount according to the number of shares you are allowed to purchase. As you are getting the shares at a discounted price the average share price would be lower than the total current market value. So, if you buy those shares and sell them immediately then also you would be in a profit.
Sell your rights to other investors:
In most cases, your rights allow you to choose whether you want to buy those shares or sell your rights to other investors or to the underwriter.
For more Information…
Contact customer service at ARM securities at +234 (1) 2701096, 2701653 or customerservice@armsecurities.com.ng to gain access to application forms