Daily Market Update (Equities)
In today's daily market update, the Nigerian Equities market recovered from its negative close last week, as its benchmark index gained 0.60%. The primary drivers of the market's positive performance were investors' interest in FBN Holdings PLC, Access Holdings PLC, Geregu Power PLC, Zenith Bank PLC and United Bank for Africa amongst others. As a result, Year-to-Date return rose to 22.81% (previously 22.08%).
Furthermore, DANGCEM, PRESCO and ACCESSCORP recorded the highest trade by value while TRANSCORP, UNITYBNK and ACCESSCORP registered the highest trades by volume. The total Volume traded, and Value traded today were NGN710.02mn and NGN13.83bn respectively.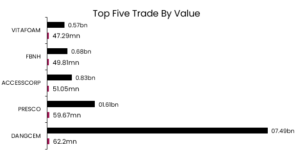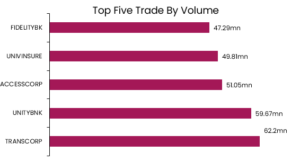 The top gainers for today were DAARCOMM, UNILEVER and JOHNHOLT while PZ,UBN and VERITASKAP recorded the highest losses.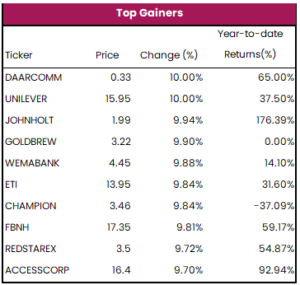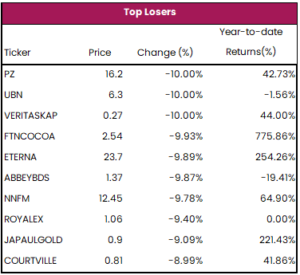 Daily Market Update (Fixed Income)
Today, the Nigerian Treasury bills secondary market witnessed a mixed trading session, albeit closed flat as average yield stagnated at 6.25%. Similarly, the FGN bond secondary market closed flat as average yield remained unchanged at 12.73% following a predominantly positive trading session.
Macroeconomic Update
Earlier today, the National Bureau of Statistics (NBS) released the Consumer Price Index (CPI) report for June 2023. Headline inflation rose by 0.38% to 22.79%. (vs. 22.41% in May 2023). Similarly, Food inflation and Core inflation rose by 0.43% and 0.22% each to settle at 25.25% and 20.27%, respectively. On a Month-on-Month (MoM) basis, Headline inflation (+0.19% to 2.13%) and Food inflation (+0.21% to 2.40%) both recorded increases. However, Core inflation tapered 0.07% to settle at 1.74% MoM in June 2023… More details to come later