Daily Market Update (Equities)
The Nigerian Equities market begun the week on a positive note, as its benchmark index went up by 0.41% to settle at 65,268.28 points. As a result, its Year-to-Date return went up to 27.35% (Last Friday's close: 26.83%). The market movers for today include Stanbic IBTC Holdings PLC, FBN Holdings PLC, Transcorp Hotels PLC, Okomu Oil Palm PLC and Fidelity Bank PLC.
Today, FBN Holdings PLC recorded the highest amount of trade in terms of Volume and Value. Total Volume traded was NGN331.13mn while total Value traded was NGN12.93bn.

The top gainers for today were FTNCOCOA, NASCON and STANBIC while IKEJAHOTEL, MULTIVERSE and ELLAHLAKES topped the losers' chart.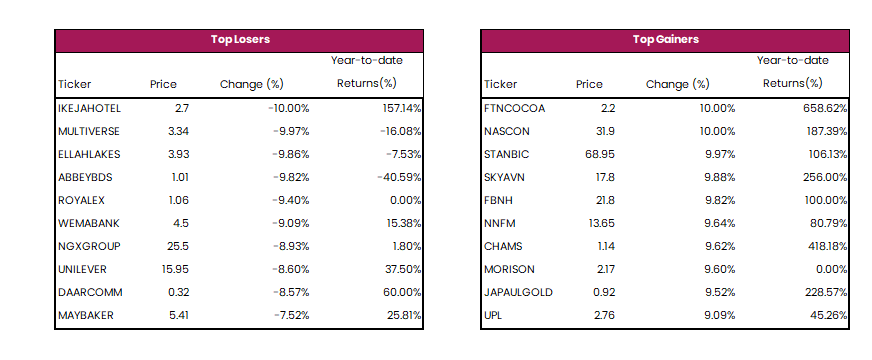 Daily Market Update (Fixed Income)
Today, average yield in the Nigerian Treasury bills secondary market fell by 0.02% to settle at 4.31%. Similarly, the FGN bond market closed positive as the average yield in the market declined by 0.06% to 12.67%.  This is as a result of investors' interests in buying short-term, mid-term and long-term bond instruments.